1. Refine Your Value Proposition for Students
First and foremost, you need to work on your value proposition and messaging. As students have grappled with the recession and an uncertain economic future, they've put their educational plans on hold. At a time when the college degree is constantly being questioned, higher education institutions need to demonstrate the value of their degree and help students understand it in real-world applications. Career viability has always been important, now it's vital.
Now is the time to hone your value proposition and create content that shows students that their chosen path will lead to a promising future. Beyond simply telling students that they'll be successful, you need to show them. That means creating testimonials, case studies, and backing up statements with data. Here are a few ideas on how to get the message out:
Create videos of your past alumni discussing their career successes
Share alumni and student success stories on social media
Publish blog articles that feature student wins
Back up all messaging in program and degree content with hard data
If you don't have insight into how your students are succeeding after graduation, then that needs to be a top priority. Leverage your alumni network and hear what they have to say. Communicating the value students received from your school needs to be the central focus of your marketing campaigns.
Learn more about what students care about most, and how to refine your value proposition and messaging.
2. Leverage High-Profile Endorsements
You can make use of high-profile endorsements to promote your school. This is very similar to influencer marketing. Since most institutions have famous alumni, marketers can mention these famous graduates in ads and content. These famous alumni can also be contacted to endorse the institution on television or in online ads.
Several studies have shown that prospective students put trust in an academic institution's alumni employment track record. Featuring your alumni successes and current achievements, either on your website or social media platforms, can be a great way to attract both new and current students.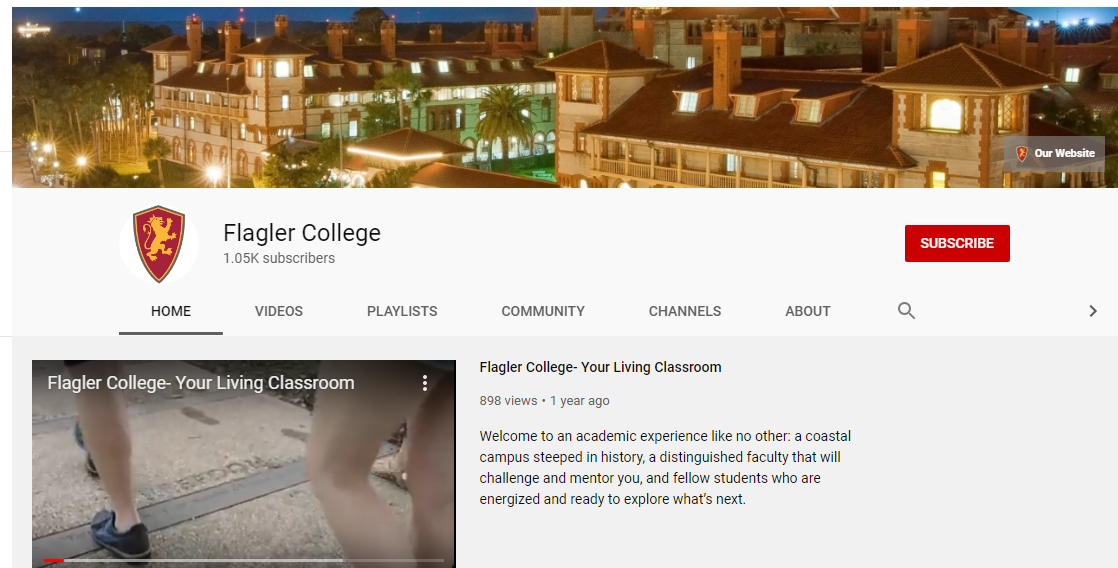 Higher education marketers can also use high-profile students as "social media ambassadors" and influencers. This will help to increase the reach of your school on social channels. Flagler College has a YouTube channel, which showcases its student ambassadors and what they're doing. It's a great example of organic content that creates itself.
3. Showcase Campus Life Through Social Media Marketing
To connect with prospective students, colleges and universities need to leverage social media platforms. According to Emarsys, there are currently more than 3.1 billion users on social media platforms. This figure equals about 42% of the world's population. Recent research from eMarketer revealed that US teens prefer using Instagram and Facebook, followed by Snapchat. A small, but growing, percentage are also starting to use the new platform TikTok.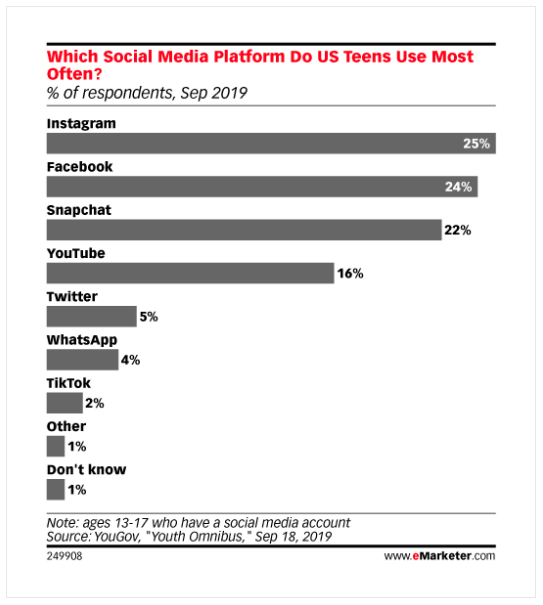 Take a look at Stanford University's and Texas A&M University's Instagram pages. They both give prospective students a peek into life on campus. They showcase sporting events, student achievements, campus grounds, and student life and community. This helps prospective students envision what life will be like at that school, making them more likely to enroll.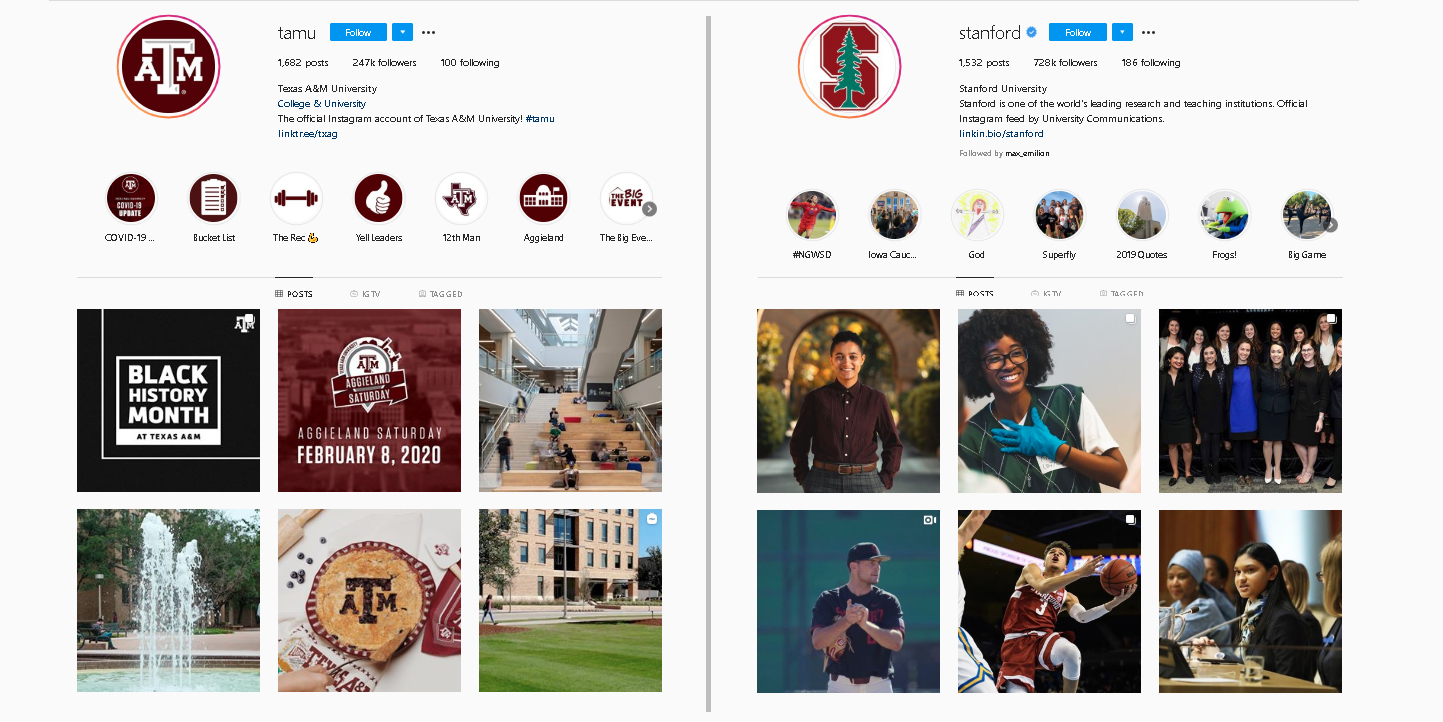 Now, let's highlight some of the effective social media marketing strategies you can leverage to improve enrollment.
Use Dedicated Hashtags
In a study by Gartner, it was revealed that more than 80% of millennials are influenced by user-generated content. By using dedicated hashtags on social media, your institution can leverage social proof to build its social media brand. Current students can use hashtags to showcase their life on campus and alumni can even use hashtags to show their appreciation to the institution that helped them succeed. You can also create and promote hashtags for departments and events as well.
The University of Michigan started the Hashtag #MYUMICH on Instagram and even used it to host a contest that yielded massive results and new enrollees.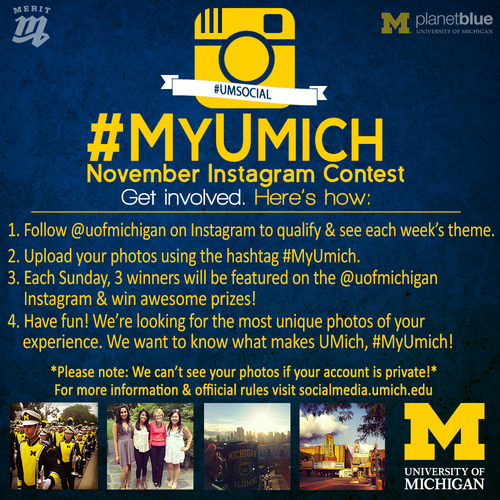 Build a Social Media Directory
On your website, create a directory with quick links to social media accounts used by your school's different departments, schools, and administration. It's an instant way for students to keep up-to-date. NYU has had a lot of success with this strategy.
Feature Your School's Social Life
Featuring student activities on your social media channels is a great way to help prospective students visualize a social life on your campus and feel a sense of community.
Feature Achievements on Your Social Media Platform
Showcase your student and faculty strengths and achievements on your social platform. This helps them visualize the successes that they can achieve at your school. If they know that students have a strong support network and are achieving success after graduation, they'll be more motivated to enroll.
Showcase Your Beautiful Campus
If you have a beautiful campus, then show it off on your social media. Take photographs of public spaces like lawns, outdoor study areas, and beautiful buildings. The campus environment plays a key role in shaping students' lives, and it's especially important in their decision-making process.
If you're looking for inspiration for your social media marketing strategy, check out our article "Social Media Marketing for Colleges: Learn from the Best." In it, we share tips and inspiration from universities that have engaging and effective social media strategies.
Get more insights on higher education social media strategy in our article "How Social Media and College Students Are Evolving."
4. Improve Conversions with Responsive Chatbots
More than 60% of prospective students expect to get a response from an academic institution within the same day of filling out a form. According to Drift, colleges and universities are 10 times more likely to decrease their chances of a follow-up contact if they fail to respond to prospects' inquiries within just five minutes.
To ensure that prospective students receive a quick response, you could use chatbots. By using chatbots, admissions representatives would be able to reply to frequently asked questions promptly. Then, if necessary, the conversation can be transferred to a human representative who can provide a more personalized response.
Georgia State University developed the first university chatbot, popularly referred to as "Pounce." With it, the university recorded 90% student engagement and students got their questions answered within seven seconds, thanks for Pounce's quick response time powered by artificial intelligence (AI).
Learn more about chatbots in our article "How Chatbots Are Useful in Higher Education Marketing."
5. Connect with Live Streaming and Video Ads
Higher education marketers can make use of video chat for Snapchat, Facebook Live, Periscope for Twitter, and Instagram Stories to market their institutions. You can live stream classes, events, or even Q&A sessions. Live streaming is very effective among Generation Z and can be an effective way to develop strong relationships with prospects.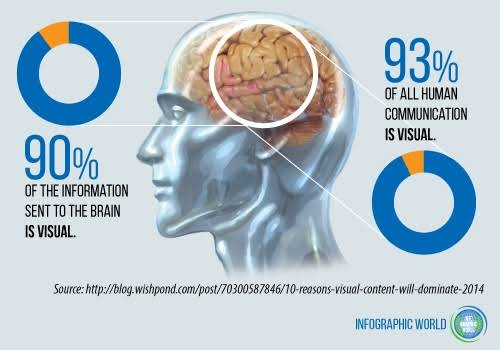 Studies revealed that the human brain processes videos about 60,000 times faster than text. This makes higher education marketing via video ads very effective. Facebook has more than 1 billion active users, and its newsfeed is ideal for video ads. Research from databox suggests that video ads outperform image ads and result in higher engagement and clicks. Video content requires users to spend more time processing the information that they're viewing before they continue their scroll, which results in higher click-through rates. Higher education marketers who are looking for the best advertising channels should consider Facebook video ads.
6. Increase Organic Traffic Through SEO
Simply having a website is not enough anymore. If people can't find it when they conduct a search, you won't have any visitors. You must improve your website's search engine rankings if you want to ensure a consistent volume of website traffic. Several reports show that more than 90% of people use a search engine when seeking information on the web.
Here are some common SEO strategies that higher education marketers can adopt this year:
Focus on Less Competitive Long-tail Keywords
Keywords are crucial to any SEO campaign. Colleges and universities must conduct research to determine the best keywords to optimize for, which should then be strategically integrated into web content for effective organic search rankings.
Learn more about keywords in my article "What Are SEO Keywords: Definitive Guide for SEO Keywords."
Create High-quality Content
If you want to rank for specific keywords, you need to have content and web pages that discuss that topic. Higher education institutions must ensure that the content they feature on their website is well-written and relevant. Think about the questions that prospective students have and what information they are seeking. Create helpful content that answers these questions and it will help you rank well in organic search results.
A popular type of content that higher education marketers can incorporate in their content marketing strategies is a blog. In the next section, I share more information on how to develop an effective blog.
Use Enticing Page Titles and Meta Descriptions
Colleges and universities should use relevant and enticing meta descriptions to attract prospective students to their website. When a prospective student is looking at their search results, the page title and meta description can help convince them to click on your link.
Read our Ultimate SEO Guide for Colleges and Universities.
7. Drive Organic Traffic Using Niche Blogs
Blogs are a crucial component of many content marketing and SEO strategies, and they can be a powerful tool for higher education marketers. Successful blogs can receive a large amount of traffic and the posts can reach a massive audience. Just as companies that blog consistently generate 88% more leads than companies that don't, much of the same can be said of higher education institutions that keep quiet.
Blogs give higher education institutes an opportunity to showcase their brand and connect with students. When developing your content strategy, think about how you can relate to prospective and current students.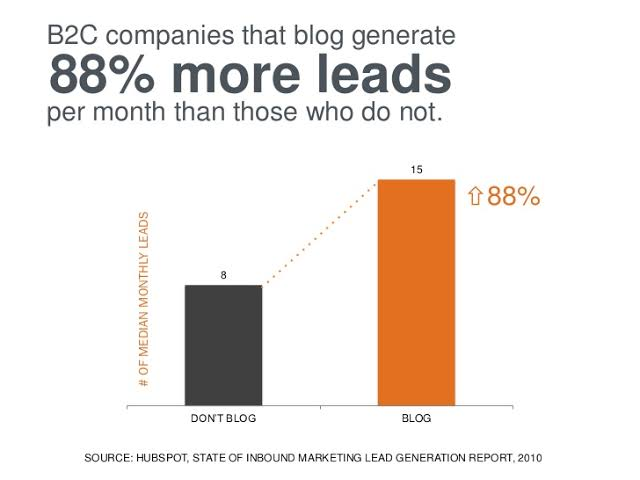 Here are some examples of how blog posts can help academic institutions reach a broader audience:
Admission Blog
Navigating the admission process can be confusing and intimidating for incoming students. They likely have many questions—as do their parents. Create a blog solely focused on admissions and use it as an opportunity to address commonly asked questions and to quell any concerns.
Niche Blogs for Different Departments
Different departments or colleges within your university can launch blogs to showcase their activities. For example, the College of Engineering may want to highlight groundbreaking research projects or their presentations at national conferences. The College of Agricultural Sciences could blog about community projects that they're involved in, such as local elementary school gardens they maintain or their extension programs.
Guest Posts
Not only can higher education institutes write for their own blog, but colleges and universities can also submit guest posts to other high-traffic blogs to reach a larger or more targeted audience. Due to the nature of the content and the school's reputation, it is easier for most academic institutions to get their guest posts accepted by blogs.
8. Design Mobile-Friendly Websites
Prospective students begin their search for a college or university online and the first place they visit is often a university's main homepage. Websites should have effective UX and perform well on both desktop and mobile devices. Users should be able to easily access your content at home and on-the-go, delivering a mobile-friendly experience is crucial. This is particularly important to Generation Z, who is now the target demographic of most colleges and universities.
That's exactly what Southern Virginia University is doing with its mobile-responsive website that displays well on both desktop laptops and cell phones.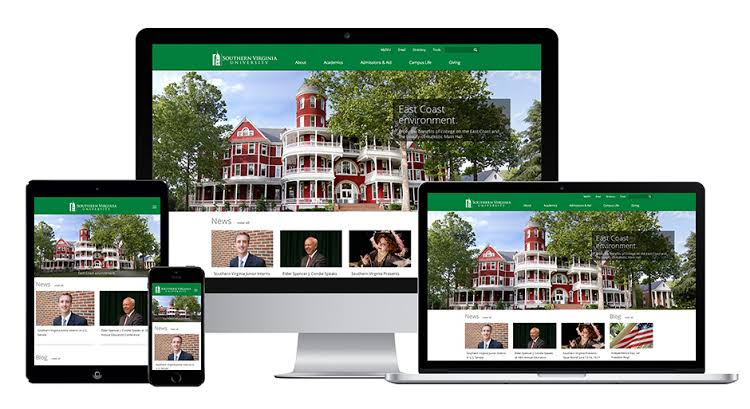 Page speed is a factor that most search engines use to determine a website's page rank. Search engines, like Google, strive to deliver the best results possible. They know that their users don't want to visit websites that are slow to load or have a poor user experience (UX). If your website is slow to load, it will negatively impact your search rankings.
9. Communicate with Email Marketing
Some marketers have neglected email marketing, claiming that it is obsolete. This is far from the truth. Email marketing is still very useful and several institutions have begun to adopt this strategy. According to Statista, more than 70% of students said they'd rather get information from colleges and universities via email versus direct mail. However, with cold emailing, the odds are stacked against you as most emails sent to prospective students will go directly to their spam folder.
So how can higher education marketers ensure that their emails won't go to spam?
Send Personalized Content
Send personalized, segmented, and relevant emails to leads. This has become a proven way to increase your engagement rate and improve overall deliverability. According to a report from Econsultancy, 74% of marketers confirmed that targeted personalization is one of the best ways to improve user experience and boost engagement rate.
Optimize Your Email Program with AI
There are some specialized tools that help higher education marketers identify the best time to send an email to anyone they have sent an email to in the past. Popular email marketing tools like MailChimp, ActiveCampaign, and ConvertKit offer these capabilities.
10. Increase Brand Awareness Using Display Advertising
Digital display advertisements are about 35% more effective than billboards and they can help colleges and universities increase their reach. Banner ads can be placed on high-traffic websites or through the Google Display Network to target prospective students based on their search histories Besides compelling text, banner ads should also include videos, GIFs, and photographs that are likely to attract prospective enrollees.
Here's an example of Cardiff University's banner ad displayed in the sidebar of an educational blog.